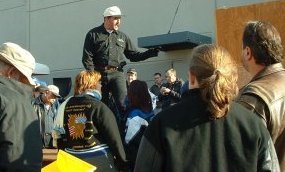 Are you looking to downsize? Have you considered an auction? Why waste your weekend facing the nightmare of a garage sale? People hounding you all day long at garage sales, and they only offer pennies on the dollar for your valuable personal property. Auctions are the most profitable method of liquidating.
An estate sale is an option! Would you sell your personal treasures to a company that typically pays only a nickel or a dime on the dollar? Who really makes the lion's share on this deal? Not you! Auction companies will do a better job and make you more money.
An auction is definitely your best choice in reducing your labor and worries, while maximizing your profit in return. DiNardo & Lord Auctioneers provide traditional auction services on a commission percentage basis. You make the lion's share! All of our auctioneer services are included in our commission. DiNardo & Lord Auctioneers is licensed, bonded, and insured. We take the stress out of your decision in choosing one of the best qualified and most reputable auction companies. Best of all, everything will be sold by the end of the day. You will be paid all of your money that same day! We are one of only a few auction companies that currently provide our clients with this outstanding service!
DiNardo & Lord Auctioneers performs the following services: fundraising consultant services, general consignment auctions, antique auctions, estate auctions, business liquidation auctions, inventory reduction auctions, auto auctions, farm auctions, equipment and car auctions, industrial auctions, GSA auctions, police auctions, gun auctions, trustee auctions, real estate, fundraising auctions, benefit auctions, charity auctions, charity wine auctions, wine auctions. We also provide contract auctioneer and certified appraiser services. We have an impressive list of references. Please email or call us today to arrange for a free consultation.
DiNardo & Lord Auctioneers maintains auctioneer licenses and the right to conduct business in the following states: WA, DC, IL, FL, PA, OH, TX, AZ, AK, CA, CO, CT, HI, ID, IA, MD, MI, MO, MT, NE, NV, NJ, NY, OK, OR, UT and WY. Through the auctioneer licenses we currently possess we have reciprocity with many additional states not listed above. This provides us with the ability to obtain additional auctioneer licenses with great ease if required.