Fund A Need Programs, Special Appeals & Raise The Paddle
What is a Fund-A-Need Program, Special Appeal, or Raise the Paddle Program? These programs are simply pledge or donation methods utilized most often by non profits and charities to focus on a special cause. The fundraising programs are most effective when delivered in charity auctions that are designed to support the beneficiary nonprofit. The Fund-A-Need program or Special Appeal is also known by many other names such as Fund-A-Cause, Fund-A-Cure, Helping Hands and Raise Your Paddles to name a few. These programs and special appeals are recognized by charities and nonprofits alike as extremely effective tools for generating significant revenue literally within minutes.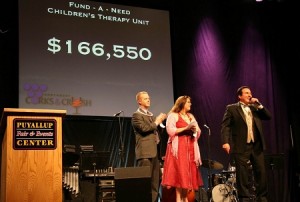 Creating a Fund-A-Need program may be an easy task for some nonprofit development executives and a challenge for others. The idea is to focus the program on one special cause. For example, the funding of a children's autism unit in a hospital may represent the overall special cause. Each individual pledge increment within that Fund-A-Need program represents an even more focused idea and concern. Examples of these focus points specified in the individual pledge amounts might include providing counseling services, outdoor educational opportunities, or appropriate learning materials for autistic children. Again, these are specified in each pledge increment within this unique program and fundraising method.
DiNardo & Lord Auctioneers is one of the country's most renowned charity firms. Company founder, Tom DiNardo, advises, "Development officers are like artists confronted with a blank canvas when it comes to creating these special appeal programs. Their task is to paint the canvas with compelling images for their fundraisers' attendees." According to DiNardo Fund-A-Need program pledge increments can start at whatever level the nonprofit chooses. Increments may start as high as $100,000 dollars or as low as $1,000 dollars and go even lower from there. This is the individual choice left up to the nonprofit development officer and her/his auction committee. "The key component ensuring the overall success of the Raise The Paddle program is to locate a donor who is willing to pledge the opening dollar amount and increment chosen by the charity. This process is referred to as 'planting a seed' and must be done months before the charity auction," says DiNardo. Mr. DiNardo also notes that the most effective Fund A Cause programs play upon people's emotions and their hearts.
The timing and delivery of the Fund-A-Need program is crucial. Never start or end a fundraising event or charity auction with a Fund-A-Need program. "Starting a fundraising event with a special appeal program is like having a fireworks show during the day," says DiNardo. He also explains that ending a fundraiser with a Fund A Cure program is also a huge mistake, as a portion of the event attendees may have already left the event by that time.
"The energy created in the room is vital for the success and delivery of these unique fundraising programs. This energy is mostly created by the benefit auctioneer," says DiNardo. Research has shown that most successful Fund-A-Need programs are delivered typically in the middle of charity auctions.
Tom DiNardo's tips for delivering an outstanding Fund-A-Need program: 1. Promote the Fund-A-Need program in your auction catalog. 2. Make sure that your pledge increments and specific cause descriptions are clearly noted in the auction catalog. 3. Have your auctioneer announce the beginning of the Fund A Cure program. 4. Deliver the special cause with a two to three minute (longer than that and people lose interest quickly) video or power point presentation. 5. Follow up the presentation with a heartfelt statement (90 seconds maximum) from either the charity's executive director or a key volunteer with firsthand knowledge of the special focus causes. 6. Have your auctioneer deliver the Helping Hands program and announce the pledge increments. 7. Start the Fund-A-Need program with your highest pledge increment and finish with the smallest pledge increment.
Most Fund-A-Need program pledges are 100% tax deductible if the organization is a designated 501 (c) 3 charity under the Internal Revenue Service Tax Code. For more information have your fundraiser's attendees consult their local tax professionals. Nonprofit organizations choosing to create these special appeals programs should select only qualified charity auctioneers and their charity auction firms. Be prepared to search the benefit auctioneer's name and company name through search engines on the Internet or ask to verify the benefit auctioneer's references.